Purdey's is igniting its natural energy range by adding two new products to the wellness segment – Refocus and
 

Replenish.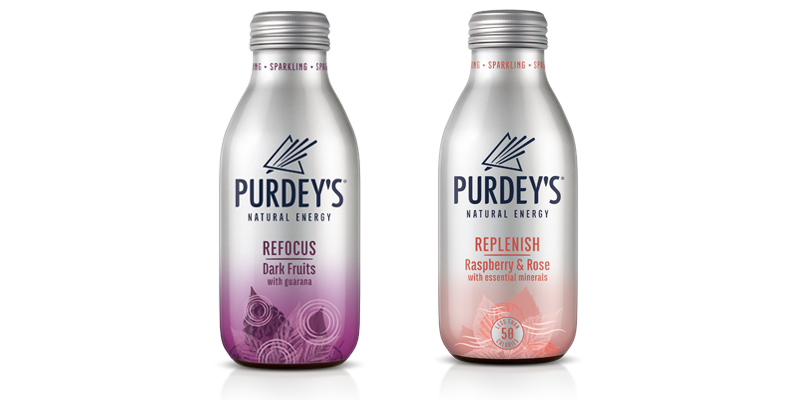 The brand has added over £3.5m to the soft drinks category in the past four years alone1, growing by almost 70% in that same time period2. Both additions will expand this growth by offering shoppers an even wider range of benefits to meet the different energy needs throughout the day and week. They also form part of a complete brand redesign – including a new multipack of cans – to drive at home enjoyment and highlight the functional benefits and great flavour to help make wellness more accessible for consumers.
Over the last year, the pandemic has accelerated health trends, creating opportunities for wellness brands such as Purdey's. One in five people have been taking vitamins during lockdown, while 47% agree they will eat more foods to support their immune system3. Refocus and Replenish are ideally positioned to meet these growing consumer needs, by offering multiple benefits for those seeking energy but looking for a more 'natural' lift:
Refocus is a blend of dark fruits, naturally caffeinated and contains guarana and b-vitamins - inspired by people wanting to stay mentally sharp
Replenish is a lighter blend of sparkling raspberry juice with rose extract. It is under 50 calories per bottle, enriched with b-vitamins and magnesium to help restore natural balance
Ben Parker, at home commercial director at Britvic, comments: "Consumers are looking for functional energy drink options that will also benefit their overall wellbeing, with over half trying to eat healthily most of the time, while keeping up with the pressures of modern-day life4. At twice the average price per litre, the wellness segment – in which Purdey's sits – is key to growth5 for retailers within their soft drinks range.
"The growth of Purdey's in recent years has been exceptional and we are confident that the flavours, pack design and multipack addition to the range will help to continue this and drive further sales. The introduction of the multipack in particular addresses and unlocks the opportunity for retailers to take advantage of the emerging trend of at home wellness options as a result of the pandemic."
The full range now includes three flavours. Existing grape and apple blend, Rejuvenate has also been reformulated as part of the brand update to ensure the whole range is HFSS compliant. The new flavours and pack design will begin rolling out from 8th March and will be supported with an integrated digital campaign.
Purdey's flavours available are:
Replenish (Raspberry & Rose)

Glass bottle (330ml; RRP: £1.59)
Refocus (Dark Fruits)

Can (250ml; RRP: £1.29)
Glass bottle (330ml; RRP: £1.59)
Can multipack (4 x can; RRP: £3.49)
Rejuvenate (Grape & Apple)

Can (250ml; RRP: £1.29)
Glass bottle (330ml; RRP: £1.59)
Can multipack (4 x can; RRP: £3.49)
Glass bottle multipack (4 x bottles; RRP: £4.49)
Contact:
For further press information, please contact the Britvic team at Cirkle.
Email: britvic@cirkle.com
Tel: 01494 731 750
All reader enquiries should be directed to: Customer Services, Britvic Soft Drinks on 0345 7581781
1 Kantar Worldpanel, Total Take Home Soft Drinks, 52wk data to 27.12.20
2 Nielsen Total Coverage, Value Growth Actual, 52we to 19.12.20 vs 24.12.2016 (T. Purdey's 67.7%)
3 IGD ShopperVista, Has COVID Kick-Started new health trends? 10.09.2020
4 Mintel – Attitudes Towards Healthy Eating – UK February 2020 (53%)
5 Nielsen RMS – Total Coverage – Britvic Functional Drinks "Wellness" Segmentation and Total Soft Drinks – Value and Volume data – PPL – 52we to 02.01.21 vs previous years