Energise Sport, one of Ireland's biggest sports drinks has launched a new partnership with local ice hockey team,
 

Belfast Giants.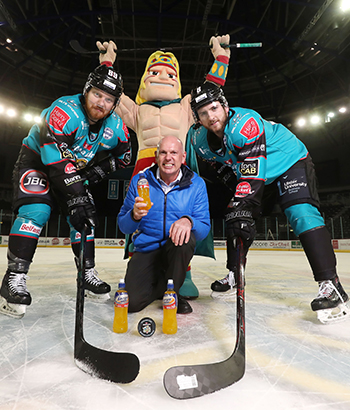 The sponsorship will see the drink, alongside its sister brand, Ballygowan, fuel the Elite League team during training and games both on home ice, and away.
Launched in 2003, Energise Sport was formulated by the Britvic Technical Team supported by renowned Irish physiologist, Dr Liam Hennessy, former Director of Fitness with the IRFU and fitness coach to golfer Padraig Harrington.
Made up of an optimum balance of water, carbohydrates and electrolytes to hydrate faster than water alone, Energise Sport has undergone clinical trials which prove it facilitates fast hydration and increases endurance during exercise.
Derrick Murphy, Regional Development & Sales Manager at Britvic commented; "Energise Sport has a long history of supporting sport around Ireland at all levels and is ideally suited to support the needs of serious athletes across all disciplines.
"Belfast Giants are a team which launched around the same time as Energise Sport, and their passion and excitement for their sport has gripped Northern Ireland. Having recently been named Team of the Year at a recent sports awards ceremony, it's clear that we share the same passion for fuelling winning performances."
Mark Brooks, Commercial Manager of the Belfast Giants added; "It's a pleasure to have Energise Sport as part of our armour going into Game nights and training. It is thanks to support from those who understand the level of athleticism needed for high intensity sports such as Ice Hockey, that we as a team are able to achieve what we do.
"Energise Sport will sit proudly ice-side with our team at the SSE Arena, and throughout Europe at our away games for the remainder of the 2018/19 season, and beyond."
Energise Sport will be giving consumers the chance to win cases of the sports drink, as well as tickets and boxes to home Giants games at the SSE, as well as signed jerseys by the whole team.
Mr Murphy continued; "As part of our roll out here in Northern Ireland, we'll be working with other local companies including Henderson Group and their EUROSPAR and VIVOXTRA brands. We're bringing their social media followers a "caption this" photograph competition with Giants mascot, Finn McCool giving them a chance to win a box and hospitality for a Giants home game.
"We're also working with Q Radio to create a Giant Street Party in Belfast's city centre for shoppers to enjoy some fun and games with the opportunity to win more prizes."
Energise Sport is currently the third largest and fastest growing Sports drink brand in Northern Ireland with a 13% share of the market. It is available in two flavours; Orange and Mixed Fruit and is the only sports drink 100% produced in Ireland.
For more details and for a chance to win the above prizes, visit Britvic.com, EUROSPAR NI and VIVOXTRA NI on Facebook, and listen out to Q Radio from 28 January.
Ends