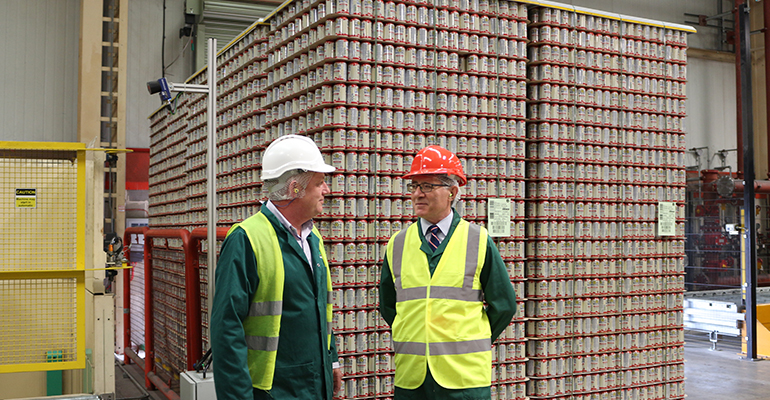 Leading soft drinks company Britvic today welcomed Mark Pawsey, MP for Rugby and Bulkington, to its site in Rugby to find out more about the company's investment in the site and for a behind the scenes tour of its redeveloped facility. 
Britvic is investing more than £100milllion in the Rugby site as part of a broader £240m three-year investment programme in its GB manufacturing capability. The investment, announced by the company in 2015, is designed to step-change the speed and flexibility of its production lines whilst delivering environmental benefits through greater efficiencies.
As part of the investment in Rugby, Britvic has installed three new PET bottling lines, a new on-site warehouse and an aseptic line to manufacture preservative-free drinks, which will improve logistics planning and reduce road miles, helping the company to reduce its carbon footprint. In addition, the company has introduced three new can lines which are amongst the fastest in the Europe, collectively producing up to 6,000 cans per minute. The state-of-the-art design has led to a reduction in waste, significantly increased production, and gives greater flexibility meaning cans can now be made from aluminium or steel on the same line. This year, Britvic's steel can formats have also moved to aluminium cans, enabling Britvic to reduce the amount of metal it uses annually by 8,000 tonnes.
Britvic announced earlier this year the creation of c.80 new jobs at the site, which includes technical operators, engineers and team leaders.
Mark Pawsey MP met with Britvic colleagues, including Director of Production Jeremy Howard, and was taken on a tour of the factory which has been home to Britvic for more than 30 years and employs nearly 300 people. Mr Pawsey saw first-hand the production of its iconic brands, which include Purdey's and Tango, on its can lines.
Mark Pawsey, MP for Rugby and Bulkington commented: "I was delighted to join Jeremy and his colleagues today at Britvic's redeveloped site in the heart of Rugby. Britvic has been a major employer in the constituency for many years and I was very interested to find out more about how their investment is helping to reduce the amount of material they use when manufacturing their world famous brands."
Jeremy Howard, Director of Production at Britvic, commented: "We are delighted to welcome Mr. Pawsey to our Rugby site today to see our new state-of-the-art manufacturing and logistics capability. It is a proud moment for the team here and for all our partners who have supported us in our ambition to create a world-class manufacturing site.
"Sustainability remains at the heart of our business and this project. Through our GB investment programme, we are investing for the future and remain committed to continuing to make a positive difference to our communities and to the world around us – helping to make it healthier, happier, and more sustainable."
Britvic's sustainability strategy, 'A Healthier Everyday', is fully integrated into the company's investment in manufacturing programme. It focuses on three key areas including:
Healthier People: helping consumers to make healthier choices and live healthier lives
Healthier Communities: helping our employees and communities to thrive
Healthier Planet: helping to secure our planet's future
The 'Healthier Planet' element sets out Britvic's commitment to help secure the planet's future, ensuring that resources are used responsibly, and the natural world is protected. The focus is on resource efficiency, minimising the environmental impact of packaging and operating a sustainable supply chain.
Recent milestones:
100% of Britvic's PET plastic bottles are recyclable in the UK recycling system
Recent investment in new bottling lines eliminated over 300 tonnes of plastic bottle packaging in GB
99% of global manufacturing waste generated was diverted from landfill
It achieved a 5% reduction in carbon emissions relative to production compared to 2016
Water ratio (water consumption relative to production) from 2016 was maintained despite the commissioning of new lines
Britvic was shortlisted for the 2017 GreenFleet Awards in the 'Private Sector Fleet of the Year' category for its work to promote the use of alternative fuel vehicles across its fleet. Work included installing charging points across its sites in Great Britain, and actively engaging with employees to demonstrate the total cost/benefit of hybrid vehicles.
Britvic was a founding signatory of The UK Plastics Pact, a pioneering agreement which aims to transform the plastic packaging system in the UK and keep plastic in the economy and out of the ocean.
Britvic is investing £850,000 a year in UK recycling infrastructure through its commitment to only purchase domestic Packaging Recovery Notes (PRNs) from UK recyclers.
2020 Goals:
Reduce carbon emissions relative to production across Britvic's global manufacturing sites by 15% vs 2016 baseline (5% emissions reduction achieved in 2017)
Achieve a water ratio (water consumption relative to production) of 1.4 across its global manufacturing operations (water ratio was 2.15 in 2017)
Achieve zero waste to landfill across its global manufacturing sites (99% in 2017)
Reduce the amount of materials used across all packaging formats, introduce recycled PET (rPET) into the GB portfolio at 15% content (300 tonnes of plastic packaging eliminated in GB in 2017).
Ends