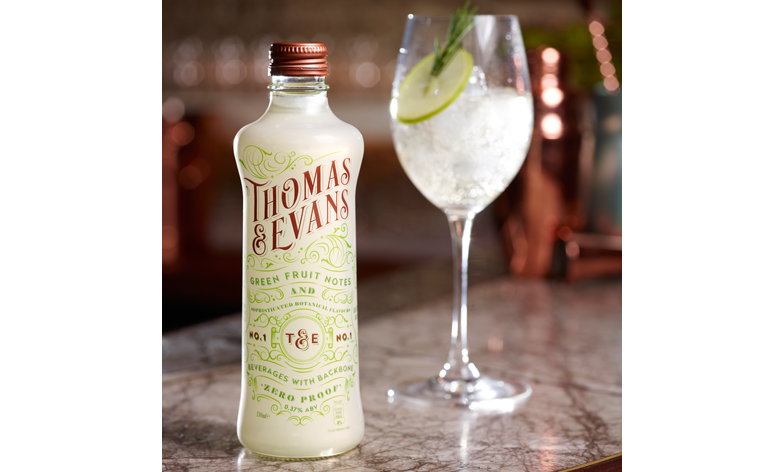 Britvic has today launched WiseHead Productions, an incubator company setup to create drinks for adults who seek quality drinking experiences.
The first creation from WiseHead Productions is Thomas & Evans No. 1, a 'zero proof'1 drink.  Gently sparkling and aromatic, T&E No. 1 reveals flavours of botanicals, citrus peel and green fruits layer by layer.  Its intricate blend of over 20 carefully selected ingredients, including steam-distilled botanicals and silver birch charcoal filtered green fruit juices, unlocks a natural bouquet of aromas including apple, elderflower, citrus peel and oak tincture.
WiseHead co-founder Ounal Bailey, Director of Adult Portfolio Brands and New Ventures at Britvic Soft Drinks, comments:
"Britvic has a longstanding history of innovation and WiseHead Productions echoes this spirit of progression in the drinks industry.  I am delighted to announce T&E No. 1 as our first release from WiseHead Productions because I feel passionately that non-drinkers at social occasions should enjoy exceptional drinks that are creatively crafted. T&E No. 1 is light and refreshing with a depth of flavour that will delight even the most discerning palates."
Nigel Paine, Commercial Director at Britvic Soft Drinks, also comments:
"WiseHead Productions exemplifies Britvic's spirit of innovation and creativity. Ounal and her team have understood consumers to deliver the exceptional non-alcoholic drinking experience they expect and demand.  We are confident T&E No. 1 is going to reinvent the marketplace."
The inspiration behind T&E No. 1 stems from the namesakes of this innovation, whose story was uncovered in the Britvic archives. Mr William Thomas and Mr William Evans, business partners in the 1880s, were inspired by the growing temperance movement of the time and prospered by making drinks to sell in public houses as non-alcoholic alternatives.  Mr Thomas and Mr Evans were renowned for their obsession with quality and their entrepreneurial spirit lives on in T&E No. 1, with which Ounal and her team have set out to transform non-alcoholic drinking experiences.
T&E No.1's subtle sweetness occurs naturally from the fruit extracts used, and contains only 53 calories2 when served in a 175ml glass, which is around one third of the calories of a glass of wine3. T&E No.1 is available in a 330ml bottle and is available to buy at Harvey Nichols, London. RRP £4.50. www.thomas-and-evans.com.
1"Zero-proof" refers to an emerging category of premium non-alcoholic drinks."
2 The bespoke charcoal filtered juice blend for T&E No 1 delivers 99 calories per 330ml bottle; no sugar or sweeteners are added to the blend.
3 A 175ml glass of wine (13% ABV) contains 159 Calories - Source drinkaware.co.uk.