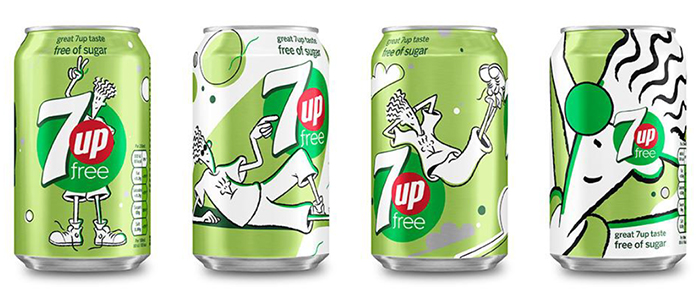 7UP® is reuniting with pop culture icon, Fido Dido, the witty, wriggly-haired King of Chill, to celebrate the refreshing lemon lime beverage and encourage people to slow down and appreciate the little things in life. Fido Dido will appear across 7UP Free limited-edition packs from April in an effort to drive visibility on shelf and to introduce the character and his mentality to a new generation of shoppers, bringing them into the category as part of the brand's Feels Good to Be Free campaign.
7UP Free is the biggest lemon and lime sub-brand within grocery1 and warrants focus as it is driving growth within the fruit carbonates category2, convincingly beating its closest competitor in recent taste tasting3. 7UP Free provides a key opportunity for retailers to increase their sparkling beverage sales as it attracts more shoppers looking for no sugar, no calorie alternatives, driving additional value into the category4.
Phil Sanders, GB Commercial Director At Home at Britvic, comments: "With the new limited edition packs launching in April, the timing ties in perfectly with the brand's 90th anniversary celebrations. 7UP – and in particular Fido Dido as a character – embodies a feeling of being free to be yourself and we are investing heavily into the campaign to ensure awareness is at an all-time high amongst shoppers. 7UP is also launching its biggest integrated marketing campaign in the UK to date, including TV launching in June to support the limited-edition packs. 7UP and Fido Dido will be front of mind for shoppers across the summer, a key period for retailers' soft drink sales."
The 7UP Free limited edition packs will be available from April to October and in addition to the TV campaign, it will be supported by outdoor, VOD, digital, PR, sampling and experiential activations throughout the summer.
1Nielsen, Grocery Multiples, Total Value MAT 02.02.19
2Nielsen WE 14/4-WE 29/9. Sprite = 3.3g of sugar x 3.243M RTDL
3UK Competitive Assessment (n=407/406). October 2018
4Kantar Worldpanel, Take Home Market, Gains/ Loss Analysis, 52w/e 24.02.19
-ENDS-
Notes to Editors:
The limited edition Fido Dido artwork will be available across all pack formats of 7UP Free:
2L: £2.29
1.5L: £1.89
6MPC: £3.49
8MPC: £4.39
500: £1.39
375ml: 89p
600ml: £1.39
250ml Slimcan: 55p