2018 Partnership to focus on benefits of hydration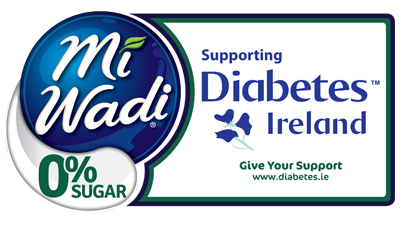 Ireland's favourite flavour enhancer brand, MiWadi, has announced its continued support of Diabetes Ireland in 2018, which marks the third year supporting Ireland's leading charity dedicated to those with diabetes. As the only flavour enhancer brand in the market with 0% sugar and stevia extract (as per March 2018), MiWadi will build on its partnership with Diabetes Ireland over the past two years to raise awareness of the importance of hydration and encourage more water consumption, which is particularly relevant for those with diabetes.
MiWadi's 0% Sugar range, which also includes added vitamins, helps families and those managing diabetes to stay refreshed in a flavourful way. Infused with real fruit juice from concentrates and Stevia extract, the MiWadi 0% Sugar range offers healthier refreshment options for those with diabetes as its sugar-free formula contains vitamins and zinc.
Claire Lynch, MiWadi Brand Manager, Britvic Ireland commented: "We are delighted to partner with Diabetes Ireland for a third year and look forward to building on our strong relationship in 2018 and beyond. Diabetes Ireland provides invaluable support for individuals and families across the country dealing with diabetes. We are proud to support their events and to be able to offer a sugar free refreshment option to their members as well as important dietary information and expertise from well-known nutritionist Sarah Keogh. MiWadi has been an Irish family favourite flavour enhancer for over 90 years and we consistently strive to create refreshment options to compliment a healthy and happy lifestyle, without compromising on taste or flavour."
Kieran O'Leary, CEO Diabetes Ireland: "Diabetes affects people from all walks of life and is now considered the fastest growing epidemic by both the World Health Organisation and the United Nations. In Ireland, it is estimated that 225,000 people have diabetes and this will increase to 282,000 people by 2030. Diabetes Ireland is the national charity dedicated to providing care, education, support and motivation to everyone affected by diabetes. Our partnership with MiWadi 0% Sugar is a first of its kind for us and we welcome their innovation and leadership to launch a 0% sugar range. We look forward to working with them this year to improve awareness on the importance of healthy hydration in the diabetes community, and indeed in the wider population. MiWadi 0% Sugar offers a delicious alternative to water for people with diabetes and we are delighted to have them involved as a partner."