Temple Street is encouraging guys and ghouls all around Ireland to help sick children by hosting their own Trick or Treat for Temple Street party, proudly supported by MiWadi
#TrickorTreat4TempleSt
Temple Street Foundation has today launched its annual 'Trick or Treat for Temple Street' campaign, proudly supported by MiWadi.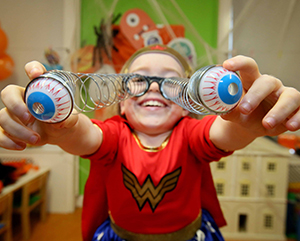 A fangtastic Halloween party was held in the beloved children's hospital where a gaggle of tiny dinosaurs, monsters and superheroes gathered to kick off the Halloween fundraiser.
Temple Street is encouraging people all over the country – kids, adults, schools and workplaces - to host their own Halloween party and raise vital funds.
And make no 'bones' about it; the money raised from this year's Trick or Treat for Temple Street, will have a hugely positive impact on the children's hospital. The funds raised will help to upgrade and replace specialised equipment from cardiac monitors to incubators and much more besides.
No need to be scared - hosting your own 'Trick or Treat' party for Temple Street couldn't be simpler. All you need to do is gather together some party monsters, get your spook on and raise money to help the brave children in Temple Street this October!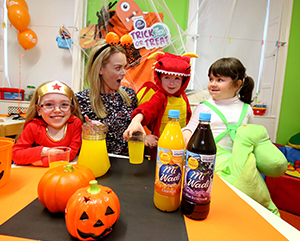 Denise Fitzgerald, Chief Executive, Temple Street Foundation says, "Trick or Treat is one of our biggest campaigns and one of the highlights of the year! It's such a great way to do something really special for sick children while having lots of Halloween fun. Every day in our hospital, patients need access to essential, life-saving equipment like heart monitors and incubators – and almost all that equipment is funded by our wonderful supporters around Ireland. With your support this Halloween, we can ensure that Temple Street has the important equipment it needs to treat our sickest patients."
She adds, "We are thrilled to have MiWadi on board again as our sponsors for the fifth year and we're so grateful to them for all their support in making Trick or Treat the biggest Halloween 'spooktacular' in the country."
Dee Cunniam, Marketing Manager, with Britvic Ireland commented; "This is the fifth year MiWadi has proudly supported Trick or Treat for Temple Street and we are thrilled to see it continue to grow bigger and better than ever. It is a unique campaign which reflects MiWadi's vision of seeing the world through the eyes of a child and this is a perfect opportunity to host a Halloween party for a great cause.
Over the past four years MiWadi has helped raise over €1.5 million for Temple Streets Children's Hospital and this year we want to continue this success and help raise further vital funds."
To register your Trick or Treat party visit www.templestreet.ie/trickortreat.
Editor's Notes
Trick or Treat for Temple Street – How it will help
Most of the essential life-saving equipment in Temple Street is funded entirely by our loyal family of supporters – such as our heart monitors and incubators. Incubators are carefully enclosed, high-tech cots which allow babies to be safe, monitored and as comfortable as possible. Our incubators are in constant use; we urgently need to replace them so that we can continue to give the best possible care to our little heroes.
You could also help provide each child in our neonatal unit with a cardiac monitor. These essential pieces of equipment are crucial to monitoring our little patients' vital signs. At the first sign of anything irregular, an alert can quickly summon medical staff.