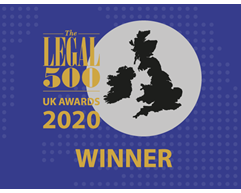 Led by General Counsel Clare Thomas, the team is the winner of best in-house legal team in the Fast- Moving Consumer Goods category at The Legal 500 UK Awards for 2020.
This prestigious award recognises the best in-house and private practice teams over the last 12 months. 

The Legal 500 conducted more than 70,000 interviews before Britvic and other winners were selected to ensure only the most capable, expert practitioners and firms were recognised.

Clare Thomas, General Counsel at Britvic, said:  "I'm absolutely delighted and proud that the Britvic Legal Team has won this award – it's a reflection of how hard everyone in the team has worked over the past 12 months to really drive and protect value in the business. This award shows we live our values and bring our best selves to work in order to achieve the highest standards."

Following their success, the award-winning team is looking for a commercial lawyer to join them as a new legal counsel and work with familiar brands including Tango, J2O, Fruit Shoot and Robinsons.

Anyone interested in the role can apply via Britvic's careers website https://careers.britvic.com/job/Hemel-Hempstead-Breakspear-P-Legal-Counsel-Commercial/568050201/

If you have curiosity, passion, enthusiasm, drive, commercial nous and are interested in developing legal practice experience, then this is the career for you.