Imagine a highly exclusive and magical place, where the most daring mixologists in the world can practice their craft. We have made this dream a reality with the launch of a collection of Mathieu Teisseire studios set in the most enchanting cities in the world. Out of these magical studios, we will invent tastes and creative theatre that will revolutionise the way we drink cocktails.
With an incredible portfolio of over 150 syrup flavours – from Blackberry and Cherry to Pistachio and Tiramisu – Mathieu Teisseire is already elevating people's drinks in over 100 countries. Now, we get to bring this iconic French brand to life in the country where it all began over 300 years ago, as we open our doors to the latest studio in the heart of Paris.
It's almost hard to believe that since launching our first studio in Vietnam in 2021 and our latest in Dubai at the start of the year – we're now opening our eighth space in the vibrant and cultural centre of the French capital.
The studio in Paris brings us closer to the action and if that wasn't enough – we're also welcoming Mathieu Le Feuvrier as our new brand ambassador. Mathieu is an award-winning hospitality and mixology expert who has worked in top hotels, restaurants and bars across Britain, France and Poland – and will absolutely shake up the way we inspire the market.
The new flagship studio follows the lead of our amazing studios in China, Holland, India, Oman, Saudi Arabia, the United Arab Emirates and Vietnam – unleashing creativity across the globe.
These beautifully designed studios are open to existing and prospective customers, whether they are branching out into the inspiring world of mixology or are already masters of the art. We welcome guests to our brand homes with four goals in mind:
Highlighting our brand and business partnering approach to key customers, enabling us to demonstrate how we can help them create signature drinks that attract more consumers.
A training hub for our Elevate programme where brand ambassadors can teach drinks professionals how to craft more memorable drinks and exciting menus for their customers.
An inspiring and creative space for innovation where we collaborate with industry professionals to create new product ideas.
A content creation and celebration hub, enabling us to create and capture photography and videos for our online and social media communications, create training videos, as well as hosting digital hangouts, VIP events and competitions across key markets.
While we celebrate the brand's fantastic growth in its physical presence – I have to also mention the launch of our new Mathieu Teisseire website. The sleek new website is designed with our customers at the heart. It's a one stop shop for sharing industry insights, the latest trends and tips, plus news and advice expertly selected by the brand's global network of professionals. And if you're ever stuck for inspiration, simply take a look at one of our 275 recipes and you won't be disappointed – anyone for a Cactus Pineapple Punch?
It's been a fantastic journey so far and I'm so proud of the work the Britvic Teisseire International team has achieved this year. As the commercial centre for our international operations with offices in the US, Benelux, Asia and the Middle East and distributing and exporting to more than 100 countries worldwide – I believe we're truly helping people all over the world enjoy life's everyday moments.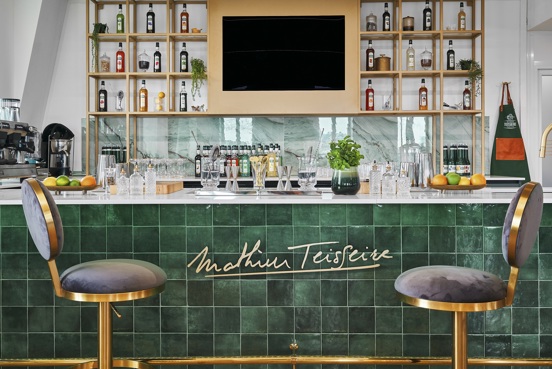 Jonathan Gatward | Global Category Director