Research, development and innovation are key ingredients of a sustainable business approach and are the bedrock of Britvic's business strategy. Our research & development team is at the cutting edge of science, technology, and innovation – join us on their journey to securing the very best ingredients, highlighting the value of our partnerships.
At the core of our much loved and cherished brands sits the most important, and critical component of them all: flavour! Quite simply, our flavours are the crafting keys to those signature great tastes that keep our consumers returning for more, driving those all important occasions, we strive to be best in class in delivering. Flavours can define a generation, create memories and elevate pinnacle moments.
So, what's the key to finding great flavour you ask? Well, it all begins with great partnerships that unify and unite us to design our best-in-class liquids. One of our most important flavours in our portfolio is citrus fruit. Did you know we have over thirty products in the market all containing citrus? From R. White's and Lipton Ice Tea to Club and Mathieu Teisseire…
Our journey begins with a short drive from Pisa to a region located in Tuscany, called Pescia. Through winding hilly roads, tall peaks and classic historic buildings, sprinkled with small cafés for the quintessential Aperol or espresso boost. The Britvic trio of budding citrus connoisseurs hunting for best-in-class flavour comprised James Wilkinson, R&D Product Innovation Manager; Tom Brown, Product Development Manager; and myself, Joseph Sankar Consumer & Sensory Science - R&D Sensory Team Manager.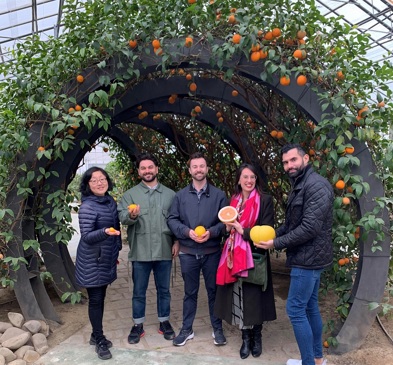 On a crisp cool February day, we are welcomed to the Oscar Tintori family citrus greenhouse by Givaudan; housing a cultivated selection of over 300 varieties of citrus plants! The greenhouse is pristine, filled with winding paths interweaving large, lush trees around each bend, all adorned by pops of yellow and orange coloured fruit (some of which were the size of a large football) between its leaves. Each citrus tree is unique and, as we swiftly discovered, each fruit boasted unique flavour profiles unlike anything you've experienced. This is thanks to the combined expertise of the grafting technique to the mother lineage trees to craft an array of creations with the help of nature's magic.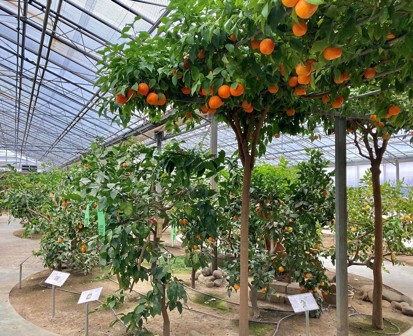 Together with the guidance of our expert chaperones from Givaudan we experience, smell, taste and learn about these incredible varieties. The senses were astounded by rich perfumed floral and herbal notes on the nose, with zingy tongue tingling and surprisingly sweet taste on the tongue. Tantalising twists with each fruit. Each one a sensory experience to behold. The greenhouse is filled with an array of 'oohs' and 'aahs' as we are mesmerised by the sheer depth of flavour and uniqueness in aromatic and flavour characteristics. And that's the beauty of flavour – nature is a symphony of flavour and that's why there's always a new citrus waiting out there!
So now we've selected an array of our favourites to begin building those flavour profiles. We work with our hosts for the trek, Givaudan, and their team of expert flavourists to train ourselves on the lexicon keys to familiarise and allow us to layer up the actual flavour we desire through these building block characteristics; essentially breaking apart what we've smelt and experienced in the greenhouse in our selected fruits. To do this we use Givaudan's Mini-Vas technology that allows us through smell to layer up flavour characteristics in real time with pace and at varying intensities to design the flavour!
This partnership with Givaudan allows Britvic access to technologies and expertise to facilitate, unite and enable us to work collaboratively in the creation of great tasting flavour. In case you were wondering what we created, we selected a citrus fruit called Vakalou, which imparts the most complex and heady, leafy and herbal aroma profile; and the Limette which gives off such a crisp, fruity and layered citrus mix that screams zing and vibrancy.
In just under a week, the Britvic team in partnership with Givaudan have managed to explore, identify and create using their Mini-Vas technology, two incredible flavours that are bound to tantalise taste buds and excite the senses. Just one of many partnerships R&D seek to create to bring our expertise to the table when it comes to best in class for Britvic.
Joseph Sankar | Consumer & Sensory Science - R&D Sensory Team Manager