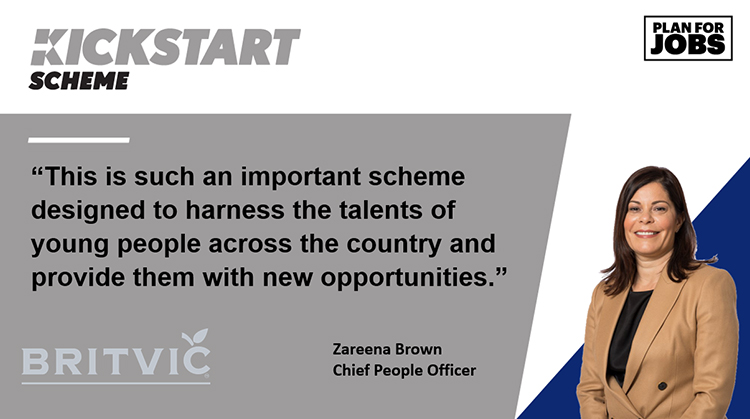 Britvic will offer an initial 50 job placements to young people at risk of long-term unemployment as part of the Government's £2 billion Kickstart scheme.

This move follows Britvic's long-term commitment to supporting young people through its Healthier People strategy.
Today, Britvic announces it is creating 50 new workplace placements for young people, as part of the Government's Kickstart scheme.
The £2 billion scheme was launched by HM Treasury and the Department for Work and Pensions last year and is designed to encourage businesses to create job placements for 16 to 24-year-olds claiming Universal Credit who are at risk of long-term unemployment. 
Britvic will provide a six-month experience, designed to invest in the potential of young people who have faced difficulties because of the COVID-19 pandemic. These placements will help support a wide range of key activities across the business, with opportunities spanning the likes of procurement, Finance, IT and Research & Development, through to roles at Britvic's Leeds and Rugby factories.
Over the course of the placement, young people will be provided with tailored sessions to hone their CV writing and interview skills alongside digital training to learn more about the industry. This will ensure that they have a greater chance of securing long-term employment at the end of the scheme.
Zareena Brown, Chief People Officer at Britvic, said: "Britvic is committed to giving young people access to quality work experience, equipping them with the skills they need to start their careers.
"Kickstart is such an important scheme designed to harness the talents of young people across the country and provide them with new opportunities – Britvic is proud to be supporting it. I'm excited to discover what unique insights our Kickstart cohort will bring to Britvic."
This is the latest in a series of measures Britvic has taken as part of its Healthier People strategy to provide young people with the skills they need to develop their future careers.
Since 2010, Britvic has run an engineering apprenticeship programme at all manufacturing sites across Great Britain, with almost half of the early cohorts still employed in various positions including engineering specialists, team leaders and maintenance managers.
Britvic has been recognised by the Food and Drink Federation for the work it has done to support young people – picking up the FDF education initiative award for its young peoples' programme.
The programme, based at its National Distribution Centre in Lutterworth has been a career pathway for local young people with 93% of students who graduated between 2015 and 2019 gaining permanent or temporary roles at Britvic or one of its partners, Wincanton and Eddie Stobart.
If you are eligible for the scheme and interested in a Kickstart placement with Britvic, please ask your work coach at Jobcentre Plus.