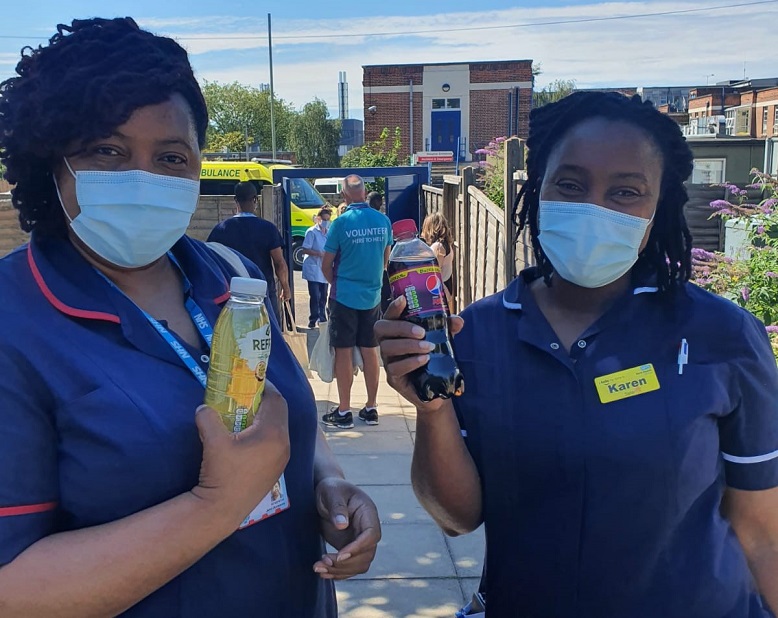 Key workers at Whipps Cross Hospital, London - which received the one millionth drink
As the number of soft drinks donated by Britvic & PepsiCo to hospitals, hospices, charities and food banks reaches one million, Steve Kent, Business Development Manager at Britvic Soft Drinks, and Kenton Sloss, Franchise International Account Manager at PepsiCo, reflect on a pandemic that has demonstrated our community spirit and shown that we are all stronger together.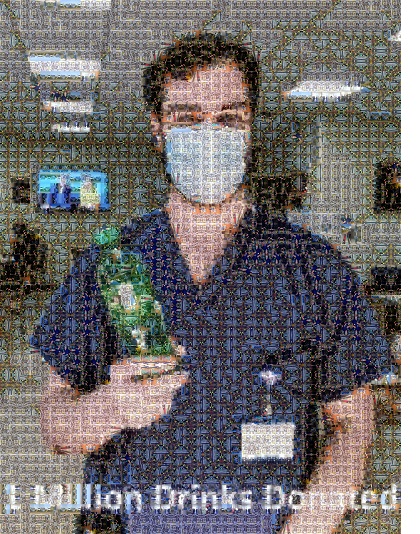 Britvic's Steve Kent: Throughout the pandemic people have been working hard to support their communities – one of the most visible ways Britvic & PepsiCo have done this is by teaming up to donate one million soft drinks to the people who need them most. That's meant donations to hospitals, hospices, care homes, food banks, emergency services and communities.

PepsiCo's Kenton Sloss: Britvic has been making drinks for us since 1987, so this felt like a natural partnership. Together, we wanted to find a way to say thank you to the amazing key workers who are doing so much to help the nation. It has been truly humbling to see how they have come together to keep us all safe and fed  - from all those working in the NHS, to the hidden heroes in the food and drink supply chains keeping our supermarket shelves stocked, to the people collecting our recycling. We've also seen so much community spirit in the smaller gestures – whether it be putting a rainbow poster in your window or clapping for health and care workers on a Thursday evening.
[Facebook post]
Steve: Absolutely, small gestures have really boosted morale and everyone at Britvic wanted to help in whatever way we could. So we started packing up drinks and sending them to local hospitals and hospices and food banks – anywhere we thought it might bring a tiny smile on a tough day. From there, it just grew and now we've reached one million drinks.
When the call came to request support for the Nightingale hospitals, we were so pleased to be able to help. We started with the NHS Nightingale London, the temporary hospital built at the ExCeL centre, less than two miles from our Beckton factory. Within 24 hours, our people and our partners had sourced 20 double-door chillers and transported them to the hospital, along with 38,000 soft drinks. Thankfully, the extra capacity of temporary hospitals has not been fully required, but we're proud of the quick reaction of our teams, and their determination to help.
It's been a huge team effort. People from all our sites have shown support. This has included everything from drinks from our Leeds factory being included in food parcels for the Yorkshire Ambulance Service to us providing warehouses in Norfolk for the NHS to store beds and put together care packages.
Alongside donating drinks, we've also tried to help in other ways, including supporting the University of Hertfordshire's production of hand sanitiser by donating more than 500 empty bottles.
Kenton: The response we've had has been really heartening. Hydration for health workers was always the right thing to do and it's been great to hear how something as simple as a soft drink has lifted spirits after a long shift.
Steve: This is something we've seen in the messages we've received, especially on social media. The pandemic has really seen companies focusing on their purpose and we hope we've been able to bring a little enjoyment to people's lives during a very difficult time.
🌞 It's been a hot week across a lot of the UK, so we're especially grateful to our kind friends at @Britvic for their generous donation of 2 pallets of soft drinks. They'll be an unexpected treat in the food packages going out to people in temporary accommodation in London. 😎 pic.twitter.com/sF7CU57o0n

— Crisis (@crisis_uk) May 21, 2020
Kenton:  Supporting our communities has been at the heart of what PepsiCo has done from the start. Seeing Britvic doing the same and being able to work together to donate one million drinks to those on the front line has been thoroughly rewarding.