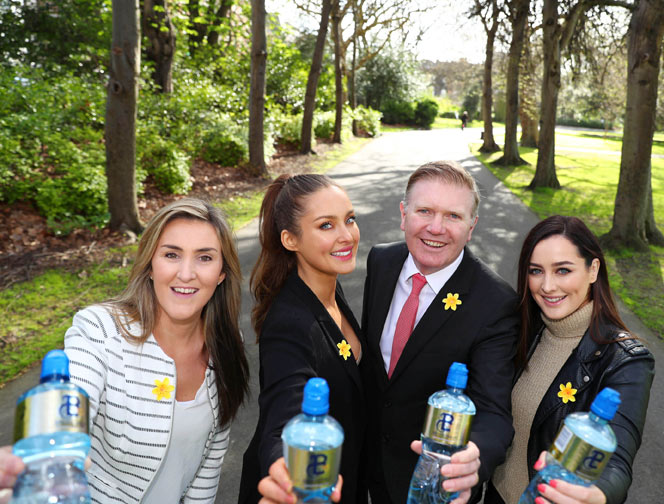 Caroline Hyde, Marketing Manager; Rozanne Purcell; Donal Buggy, Head of Services & Advocacy, The Irish Cancer Society; and, Rachel Purcell
Thursday 6th April 2017: Ballygowan has officially unveiled a major new campaign to support increased cancer awareness and fund vital cancer support services for those who battle against the disease each day. Working with the Irish Cancer Society in the Republic of Ireland, and its campaign partner Marie Curie Cancer Care in Northern Ireland, Ballygowan is aiming to raise €150,000 across the island of Ireland over the next five months.
Ballygowan has invested €500,000 into 'Ballygown Gold', which will be supported by a campaign including PR and above the line supported by popular model and food blogger Rozanna Purcell and her sister Rachel. The Ballygown Gold campaign will include; TV, in-store theatre, promotions, trade press and digital activity.
At the heart of this pledge, there is a concerted effort to help the Irish Cancer Society in their mission to achieve a future without cancer in Ireland. To support this campaign, Ballygowan has unveiled exciting plans to turn their labels from blue to gold. From now until August, labels on the biggest selling lines will feature a special gold label and a donation for every bottle sold, will be made to cancer services.
The funding raised through the gold label bottle, will go towards supporting the Irish Cancer Society's Night Nursing service, 13 Daffodil Centres and Cancer Nurseline 1800 200 700. This is a unique campaign that sees Ireland's leading water brand working with Ireland's leading cancer charity to deliver a message of empowerment and hope for all cancer patients and their loved ones. The campaign will be fronted by popular model and food blogger Rozanna Purcell and her sister Rachel, who bravely battles cancer on a daily basis.
Leonie Doyle, Director of Brand Marketing at Britvic Ireland said; "The Irish Cancer Society is a beacon of hope for those fighting cancer and their families. This campaign empowers Irish consumers to provide much needed support. Ballygowan is a proud Irish product with a strong heritage and we hope that consumers trust in our brand will translate into much needed support for the fight against cancer in Ireland. It is a privilege to work with the Irish Cancer Society to support them in achieving their vision of a future without cancer."
Ballygowan Gold is available in local convenience stores and supermarkets nationwide in 500ml, 750ml, 1L and 2L bottles until August 2017.
Join us in the fight against cancer and 'B part of it' by picking up a limited-edition Ballygowan Gold bottle in store between now and August.