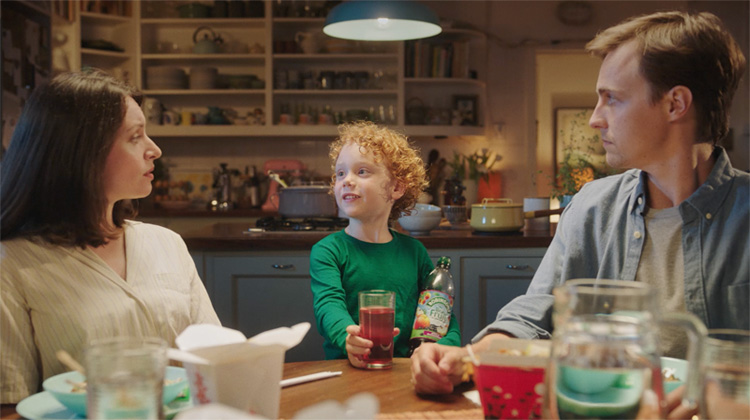 Robinsons is launching a £6.4m campaign this summer, with TV, radio, digital, out of home and in-store activation. Set to bring the great taste and real fruit message of the brand to life, the campaign will encourage shoppers to liven up their tap water. 'Let There Be Fruit' campaign will run from April through to September 2021, uniting the full Robinsons portfolio, including Robinsons Squash, Minis and Fruit Creations.
The TV support kicked off from 9th April, seeing Robinsons squash back on screens for the first time in four years. Three versions of the advert will look at the day-to-day routines of people and the situations they encounter, from gardening and exercising, to simply having a glass of water. The first advert will feature 1L Orange, Apple & Blackcurrant and Summer Fruits squash, while the second will hero Robinsons Fruit Creations Peach & Raspberry and the third will focus on Minis, encouraging consumers to liven up their water anywhere. Throughout the ads the Robinsons range and the 'Let there be Fruit' slogan is championed by children to liven up these everyday occurrences.
Ben Parker, at home commercial director at Britvic, comments: "The squash segment has performed particularly well during the pandemic, accounting for almost a third (32.6%) of all soft drinks occasions1. This is due to people spending more time at home and consumers turning to brands that they know and trust. The 'Let there be Fruit' campaign will showcase the breadth of the Robinsons portfolio and the clear role between the sub-brands and what they have to offer for different occasions, from at-home to on-the-go.
"The supporting TV campaign is ideally timed ahead of the summer, a key season for soft drinks, particularly as Covid-19 restrictions ease and more people get out and about. We also have our famous Wimbledon partnership set to return this year."
Research shows that the number one need state for dilutes is taste2, so Robinsons, the number one GB squash brand3, is perfectly placed to cater for this, providing retailers with a broad range of products and flavours. The marketing drive will also include a refreshed pack design across the Robinsons squash range with the depiction of fruit more prominent, enhancing the brand's flavour credentials. The 1L double concentrate packs will feature bolder messaging on their double strength and the number of serves the liquid provides.
The multi-channel marketing drive will run across TV, radio, OOH, digital, in-store and social with the assets for the Robinsons brand having a new look that creates a distinctive and united look and feel throughout the range.
Contact:
For further press information, please contact the Britvic team at Cirkle.
Email: britvic@cirkle.com
Tel: 01494 731 750
All reader enquiries should be directed to: Customer Services, Britvic Soft Drinks on 0345 7581781
1 Kantar Worldpanel, Usage Panel, Soft Drinks Sectors, Total Squashes, Occasions (total in home and carried out), 52 we 29.11.20
2 Kantar Usage Panel, Total In Home and Carried Out Occasions, Total Dilutes, Servings chosen for 'Enjoy the Taste', 52 w/e 21st Feb 21
3 NielsenIQ Retail Measurement Service, Value Sales, Total Coverage, Total Dilutes (Britvic defined), 52 we 20 Feb 21