Robinsons introduces more flavour and excitement into soft drinks this summer with new delicious ready to drink offering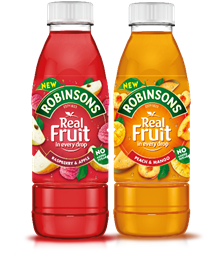 Robinsons Refresh'd is relaunching this month to Robinsons 'Ready to Drink' in two full tasting flavours – Raspberry & Apple and new Peach & Mango. It will sport a brand-new look while delivering full taste with real fruit in every drop but with no added sugar, providing consumers with a refreshing and hydrating drink without compromise - as 50% of the population actively look to reduce their sugar intake[1]. The packaging update across the single-serve bottles will unite the portfolio under its well-known brand name, making it instantly recognisable in chillers while continuing momentum beyond take home formats as lockdown restrictions continue to ease, helping retailers capitalise on the summer on-the-go opportunity.
Robinsons has grown at +13.5% in the past year, equivalent to £24.8m in additional sales value[2]. As the UK's number one squash brand[3], there is a large proportion of existing shoppers to be enticed into on-the-go formats as the nation slowly starts to return to lifestyles outside the home.
Ben Parker, at home commercial director at Britvic, comments: "We are constantly adapting and developing our Robinsons portfolio to respond to changing consumer needs and preferences. As restrictions continue to ease over the coming months, it will be crucial for retailers to offer on-the-go formats front-of-store that align with the popularity of low and no sugar alternatives as the pandemic has shone a spotlight on health and wellness for many.
"Not only will the health credentials of this range attract more shoppers, but our choice in full flavours without compromise will also broaden our audience. While we have kept our popular Raspberry & Apple flavour, Peach & Mango is inspired by our Robinsons Fruit Creations range. Having this flavour now available in a handy ready to drink format is set to help the brand appeal to a wider audience of on-the-go shoppers."
Robinsons Ready to Drink Raspberry & Apple and Peach & Mango will be in cases of 12 and 24 from June 2021 in 500ml bottles (RRP: £1.45). The launch of the new range will benefit from the 'Let There be Fruit' Robinsons masterbrand campaign, which is running throughout the summer, and will also be supported with its own out-of-home, social and digital activation across July and August.
Contact:
For further press information, please contact the Britvic team at Cirkle.
Email: britvic@cirkle.com
Tel: 01494 731 750
All reader enquiries should be directed to: Customer Services, Britvic Soft Drinks on 0345 7581781
[1] IGD ShopperVista Where do shoppers stand with sugar in 2020? Report, June 2020
[2] NielsenIQ Retail Measurement Service, Total Coverage, Total Robinsons, Value Sales abs chg (£) and % Chg , 52 we to 20 Feb 21
[3] Nielsen IQ Retail Measurement Service, Value Sales, Total Coverage, Total Dilutes (Britvic defined), 52 we 24 April 21