Robinsons, the UK's number one squash brand1, is launching a new range to help retailers capitalise on the ongoing health and wellness trend which has accelerated post pandemic2. Robinsons Fruit & Barley with added vitamins will enhance the current Robinsons range and will be available from 20th October. The five flavours available include – Orange, Peach (containing vitamins B, C&D), Summer Fruits, Apple & Pear, and Pink Grapefruit (containing vitamins B&C). The added C and D vitamins will help support the immune system and the growth of strong bones and B vitamins contribute to energy release, whilst we have maintained the same great taste of Robinsons3.
The range is set to boost Robinsons' brand growth further with 59% of people considering their health more when they shop, following the pandemic4. One in five shoppers have begun taking vitamins since the start of the first lockdown, while 47% have said they intend to eat more healthy foods to support their immune system5.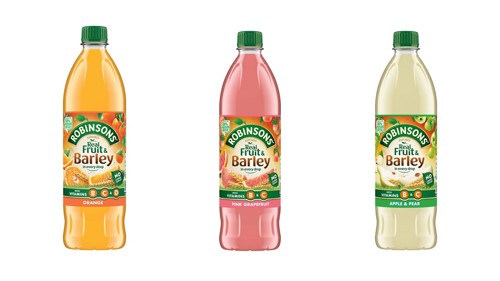 Ben Parker, at home commercial director at Britvic, commented: "The launch of our new Robinsons range is set to boost awareness of the overall Robinsons range and encourages shoppers to try something new this autumn.
"The new added vitamins on-pack claim will drive purchase with the growing number of health-conscious consumers. Our research shows that the Fruit & Barley range is more appealing with vitamins C and D added6, and over one third of squash drinkers would be interested in buying a product with added vitamins or minerals7. As well as the planned consumer support, we have impactful POS to enable retailers to give it plenty of focus on-shelf and make the most of the opportunity."
The launch of the Robinsons Fruit and Barley with added vitamins range will be supported by OOH, social media, digital marketing and POS, to help make the products front of mind for shoppers when in store. Stocks of the new range will be available from 20th October in grocery with an RSP of £1.65 and produced in 100% recycled bottles (excluding caps and labels).
[1] NielsenIQ, Total, Scantrack, Value Sales, Total Coverage, Mat w.e. 28.08.21. Britvic defined, squashes category.
[2] Mintel – Wellness Trends to Watch in 2021 – January 2021
[3] All liquids have regulatory approval of reaching the minimum amount of dosage to state this claim (present at 7.5% of the RI/100ml.)
[4] Accenture COVID-19 Consumer Research, conducted March 19–25 and April 2–6 2020
[5] IGD ShopperVista, Has COVID Kick-Started new health trends? 10.09.2020
[6] Ipsos Robinsons idea screener Dec 19, opportunity score for Fruit & Barley with vits C&D 121 vs current at 88
[7] Mintel UK – Cordials & Squashes Report – Feb 21  
Notes to Editor

Robinsons Fruit and Barley with added vitamins will be available in stores from the 20th October
• Pack Size: 1l
• Case Size: 12x1l
• MRSP: £1.65
Flavours available:

Orange
Peach
Summer Fruits
Apple & Pear
Pink Grapefruit
Contact:
For further press information, please contact the Britvic team at Cirkle.
Email: britvic@cirkle.com
Tel: 01494 731 750
All reader enquiries should be directed to: Customer Services, Britvic Soft Drinks on 0345 7581781