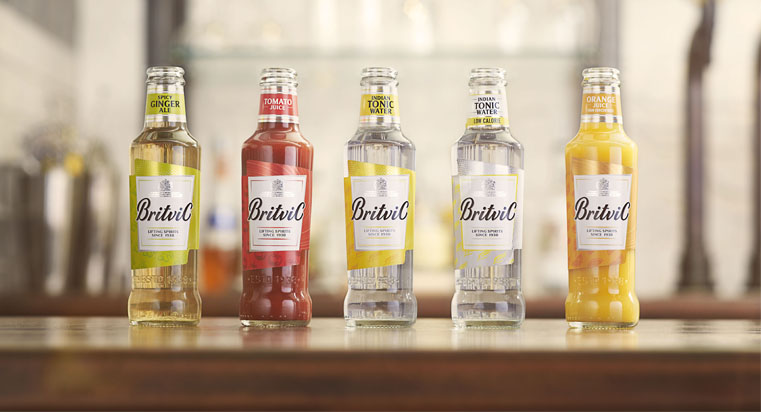 Britvic is unveiling a complete re-launch of its iconic Britvic Mixers and Juices range, a range which has been lifting spirits and has been a part of British pub culture since 1938. In response to evolving consumer tastes and the demand for authentic and quality drinking experiences, Britvic's iconic Indian Tonic Water has been refreshed. The tonic was reformulated to improve its flavour profile and now beats Schweppes in blind taste tests1.  

Britvic's tonic water, along with the rest of the range, will be housed in a brand new, bespoke bottle boasting new branding designed to emphasise the brand's classic British heritage. The new bottles are moving to a 200ml format, the market's fastest growing SKU2, offering customers the most convenient size to cater for both single and double measures. 

Britvic will bring the re-launch to life with an in-outlet community support platform, the Britvic Lifting Spirits Foundation, it launches from mid-October in the leisure channel. The Foundation has been specifically designed to further Britvic's heritage in supporting local communities and social projects. For every bottle of new look Mixers & Juices sold in participating customers, Britvic has committed to give back to local initiatives and projects, chosen by publicans and bar owners. Outlets will be invited to join the Foundation and will receive fundraising kits and POS to encourage their consumers to donate to local causes. Britvic will also be introducing the Great Service Awards in 2017 to recognise the industry's best bar-staff who go the extra mile for their consumers and understand the importance of outstanding customer service. 

Annabelle Cordelli, Brand Marketing Director at Britvic Soft Drinks, commented: "The re-launch of our Britvic Mixers and Juices range marks a real commitment to both quality and community for us. We've listened to our customers and consumers to develop our great-tasting tonic  to lift guests' spirits – in both senses of the word.  It's a truly iconic tonic!  

"In addition, through our Lifting Spirits Foundation we're also working with our customers to support their most worthy local projects, paying homage to Britvic's heritage of being at the heart of the community."

Britvic Mixers and Juices will also be available in handy 125ml bottles and 150ml cans across the Indian Tonic, Low Calorie Indian Tonic, Ginger Ale, Orange Juice, Tomato Juice, Pineapple Juice, Grapefruit Juice, Cranberry Juice, Soda, Bitter Lemon, and Lemonade variants. The rebranding also extends to the Dilutes range which comprises Orange Cordial, Blackcurrant Cordial and Lime Cordial.


1 *MMR Research Worldwide, blind taste test new Britvic Indian Tonic water vs Schweppes tonic water and Britvic Low Calorie Indian Tonic Water vs Schweppes Slimline tonic water, June 2016, 150 respondents
2 (+24% vs. LY), CGA, Total On Premise, Value (£m), MAT vs. YA, June 2016, Mixers only