7UP free extends its range with new cherry flavour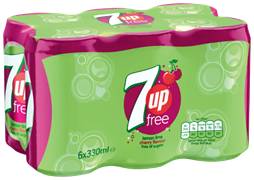 7UP, the UK's number one lemon and lime brand[1], is boosting its sugar free range with the launch of a brand new cherry flavour, which will be in stores from the 16th March. 7UP Free, which offers a great tasting, no sugar alternative to full sugar drinks, is driving the growth of the lemon and lime soft drinks segment, growing at +26%[2].
As cherry is one of the biggest flavours in carbonated soft drinks, worth £173m and growing at +4.4%[3], the launch of the new flavour directly supports consumer needs offering lemon & lime with a tasty twist of cherry. Early testing showed that out of 30 possible flavours, consumers felt 7UP Free Cherry would be their number one choice[4] and 74% of these would go out and buy the product[5], demonstrating a huge opportunity for retailers to drive their soft drink sales[6].
Ben Parker, at home commercial director at Britvic, comments ''The new packs, with the great design and vibrant cherry colour, will stand out on shelves as something different for shoppers. Our latest TV ad will also feature a new tag focused on the cherry flavour. This will place 7UP Free at the front of shoppers' minds, offering a great sales opportunity."
"We believe that 7UP Free Cherry will be another winning flavour, adding to our history of successful extensions across our brands. Previous new sugar free flavour extensions have seen great success, such as the most recent Pepsi MAX® flavours (Ginger, Cherry and Raspberry) that now make up 53% of the total flavoured cola segment[7].''
The launch will be backed with significant investment across digital, OOH, media partnerships and a brand new 7UP Free TV ad from June 2020.
  -ENDS-
Notes to Editors:
7UP Free Cherry is available in the following pack sizes:
Multipack can formats:
330ml x 6 – MRSP: £3.49
330ml x 8 – MRSP: £4.49
Bottle Size: 2ltr Bottle
Case Size: 2ltr x 12
MRSP: £1.99
Contact:
For further press information, please contact the Britvic team at Cirkle.
Email: britvic@cirkle.com
Tel: 01494 731 750
All reader enquiries should be directed to: Customer Services, Britvic Soft Drinks on 0345 7581781
[1] Nielsen Scantrack, Total Category, Volume, 52we 25.01.20
[2] Nielsen, Total Coverage, Value sales % Chg, 52we 25.01.20
[3] Nielsen Scantrack, Total Coverage, Value, 52 Wks to w.e 25.01.20
[4] Mmr. CLT research, Oct 2018, GB
[5] Mmr, CLT research, 2019 UK
[6] UK Surf test Oct 2018, 30 flavours tested, n=1020
[7] Nielsen Scantrack, Total Coverage, Value Share of Flavoured cola, MAT 25.01.2020