This week is Recycle Week and the annual event, organised by Recycle Now, is now in its seventeenth year. Britvic is a commercial donor to the campaign again this year, and we catch up with Sarah Webster, Director of Sustainable Business at Britvic, to discuss this and Britvic's broader sustainability commitments.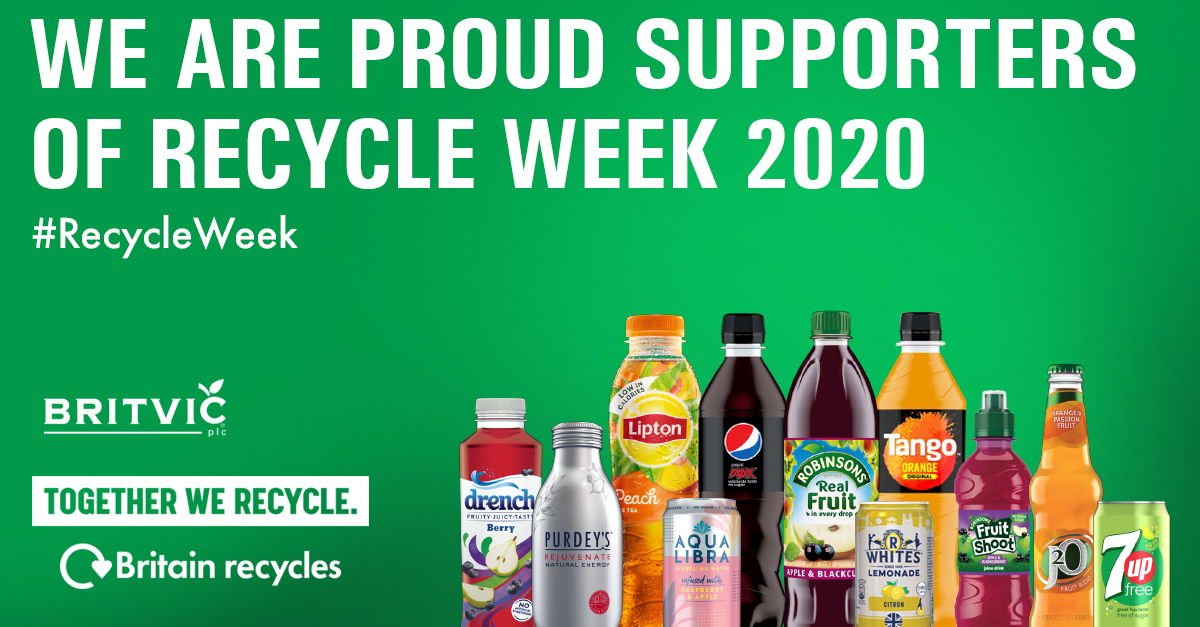 Q: Why are you supporting recycle week?
We think that as a business it is important to mark the occasion and re-affirm our commitment to protecting the planet. We are committed to effective recycling as part of our sustainability programme - that's why we wanted to be a donor for this year's Recycle Week, particularly as the theme is to thank the nation for continuing to recycle throughout the pandemic.

Q: Can you describe Britvic's approach to sustainability and environment? 
Our sustainability strategy is called 'Healthier People, Healthier Planet' and is embedded in our business strategy.
On the environment, our 'Healthier Planet' strategy is focused on protecting the planet and making a positive contribution to the global fight to address the climate crisis through the thoughtful use of resources. We set out to achieve this through three principle components: 

1. Transitioning to a low carbon economy by maximising energy efficiency and using renewable energy sources where possible.
2. Minimising waste by making packaging fully recyclable, encouraging the right behaviours and supporting a circular economy.
3. Working towards a truly sustainable supply chain and championing the efficient use of water and other natural resources.
Q: What targets does Britvic want to achieve towards a 'Healthier Planet'?
Ultimately, this is about minimising our environmental impact by reducing waste in all forms. We continue to work with our customers and educate consumers and have set ourselves ambitious targets across our business and markets. Some of the key targets we aim to achieve by 2025 include: 

• Reduce direct carbon emissions by 50% in line with science-based targets to limit climate change rise to 1.5°C
• Ensure all our plastic packaging is 100% reusable, recyclable or compostable
• 70% plastic packaging effectively recycled or composted
• Include 50% recycled plastic (rPET) in all packaging

Q: What has been achieved to date around packaging?
Given the nature of our business, packaging is unavoidable. However, as a founding signatory of The UK Plastics Pact we've been focused on finding ways to reduce our footprint. To make this happen, Britvic advocates for a GB-wide Deposit Return Scheme (DRS) that is not-for-profit, operated by industry, and easy for consumers to use. A successful DRS means we will see 30% recycled content across our packaging by 2025, with at least 70% of our packaging being recycled – in line with our Pact commitments.
In particular we've made a number of changes in recent years. For example, all our bottles and cans are 100% recyclable and we are working towards 100% recyclability for all our packaging. We also carry consistent recycling messages on bottles, caps and in our advertising. We've also continued to innovate our packaging to reduce our environmental impact, for example, we've saved 8,000 tonnes of packaging annually by switching all our cans from steel to aluminium. Last year we also invested £5m in Esterform Packaging to secure more recycled plastic across our portfolio. This deal provides Britvic with access to UK-sourced rPET and enables Esterform to invest in a major capital project that will enhance the UK's efforts to create a circular economy for plastics. These are all significant steps and we are constantly searching for ways to push Britvic forward.
Q: Do you think the pandemic has changed plastic use/consumption in the long term?
This remains a really important issue for consumers despite the pandemic - particularly when it comes to packaging and recycling. In fact, in a recent survey conducted with 2,000 adults, we found that over 60% have more admiration for refuse collectors since the pandemic began. We also know that the majority are still taking recycling seriously with 95 per cent putting plastic bottles, tins, glass, or cardboard out for recycling each week.
On top of this, 25% of respondents admitted they would do more if they understood the recycling messaging on products better, with 15% claiming they don't feel educated enough on recycling. This just shows that a lack of knowledge is a key barrier to people taking further action and reinforces the need to educate consumers. We have information about how to recycle on all our products and are continuing to use our social channels to help inform and educate individuals, too. 
Q: Has COVID-19 had an impact on the efforts by big business to address challenges related to sustainability?
When the pandemic struck the immediate priorities for business could very easily have shifted. Therefore, it was heartening to see Britvic and so many companies sticking to their commitments. In June, along with more than 200 other companies, we signed a letter to the Prime Minister calling on him to back a green economic recovery plan. For Britvic sustainability and our 'Healthier People, Healthier Planet' agenda is central to our strategy and embedded in everything we do, and so we have continued to focus on how we can meet our goals for 2025.