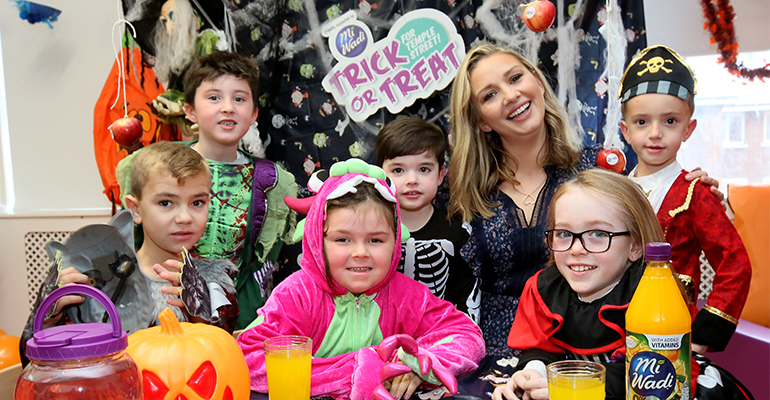 3rd October 2018: Britvic is proud to announce our support for Temple Street Children's Hospital for the sixth year running to help fund vital, life-saving equipment for the hospital's wards, theatres and Intensive Care Unit. So far, we've helped raise €1.9 million, and want to do even more this year.
Broadcaster, TV personality and one of Ireland's favourite mums, Anna Daly, today launched the Temple Street Foundation's annual 'Trick or Treat for Temple Street' 2018 fundraising campaign, proudly supported by MiWadi. The beloved children's hospital is asking witches and wizards all over the country, including kids, adults, schools and workplaces alike, to 'raise a few bob' for Temple Street by hosting their very own Halloween party to help buy vital, life-saving equipment for sick children.
The frighteningly simple fundraising campaign aims to change lives for the better by helping Temple Street fund essential equipment, such as patient monitors, incubators and ventilators, to name but a few. The funds raised will help to provide the vital necessities that are essential to every child's care. Temple Street and MiWadi are calling on the public to register at www.templestreet.ie/trickortreat to receive a special 'Trick or Treat for Temple Street' supported by MiWadi party pack, which includes posters, balloons, stickers and much more.
Speaking at the launch of the 2018 campaign, Anna Daly, said: "I'm truly delighted to be involved in this year's Trick or Treat for Temple Street campaign which is again supported by MiWadi. As a mother of three young boys, the opportunity to support Temple Street and the work they do for sick children is one I cherish and, as a parent, is a cause close to my own heart. I am in awe of the work the hospital and its staff do each and every day for children and families alike and I'm excited to be able to help raise awareness and encourage everyone to get involved this Halloween and host a Trick or Treat for Temple Street party!"
Denise Fitzgerald, Chief Executive, Temple Street Foundation said: "Halloween is simply one of our favourite times of the year - when people from every county have fun, get spooky and help us make sure that sick children in Temple Street continue to get the great care they urgently need. It's so easy to do and so much fun! Sick children need great care right now - and that's why it is so important that workplaces, creches and communities get into the Halloween spirit again this October and help us to fund vital, life-saving equipment for our wards, theatres and Intensive Care Unit. We are so thrilled to once again have the fantastic support of MiWadi, who are proudly supporting Trick or Treat for Temple Street for a sixth year!"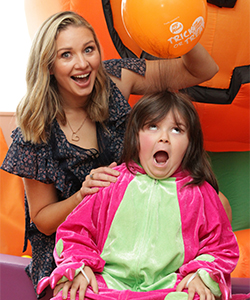 Claire Lynch, MiWadi Brand Manager with Britvic Ireland commented; "This is the sixth year MiWadi has proudly supported Trick or Treat for Temple Street. It has been a truly heart-warming journey to see the number of families, friends and communities come together to give their time and resources to support the invaluable work of Temple Street Children's Hospital. It is a unique campaign which reflects MiWadi's vision of seeing the world through the eyes of a child and creates a playful opportunity to host a Halloween party for a really great cause. We'd like to encourage everyone to get involved this year and join us in 'raising a few bob' for Temple Street. So far, we've raised €1.9million for Temple Street but we're not done yet! We want 2018 to be our biggest year yet."
To register for a Trick or Treat party pack call 01 878 4344 or visit www.templestreet.ie/trickortreat