Anthropy 2022 was the first event of its kind where over 1,000 people from different backgrounds and industries came together to address how we can think differently about our collective future and find new ways to inspire change. Branded as the 'Glastonbury for good', the event took place at the Eden Project in Cornwall – the perfect setting to listen, learn and share.
I was thrilled to join two panel sessions over the event – the first on how to do business better, and the second on balancing sustainability with commercial growth.
Hosted by PR agency, Porter Novelli, other panellists and I explored what doing business better means to us. Here at Britvic, we've been on a continuous journey to ensure we embed people and the planet into everything we do – and it's so important we place the same focus and rigour on our non-financial goals as we do on the financial targets. And, in conversation with agency TBWA London, we highlighted the power our brands have in driving commercial growth with sustainability at the heart of their strategies.
The perfect example of this is Tango – in the past year alone, we've seen the iconic brand have fantastic success with new product launches and brand partnerships coming to life – and people and the planet playing a central role. Welcoming two new flavours to the portfolio – Tango Berry Peachy and Tango Apple Sugar Free – we're delivering flavour innovation, sugar free, so there is no difficult decision to be made when it comes to great tasting drinks, that are better for you.
Over summer, we also celebrated the launch of the amazing three-year partnership between Tango and The Prince's Trust – a charitable partnership that will see Tango donating £100,000 to support young people in the first year alone. New product development and brand partnerships like this highlight our continued efforts to create a better tomorrow in the most authentic way.
We've all heard about greenwashing, however a new phrase I learnt at Anthropy is green-hushing. This is when companies take a backseat when it comes to talking about their environmental targets and strategies over the fear of being called out for not reaching targets or being accused of greenwashing. We don't want to take a backseat when it comes to talking about sustainability and being ambitious with our goals – this requires us to be comfortable with making mistakes, so long as we learn in the process, and to be transparent along our journey, while staying authentic to our values. This is how we can take part in the conversation and more importantly make progress to great a better tomorrow.
As we navigate this cultural shift, we need everyone in the business to be on board. The more each Britvic colleague feels empowered and informed, we'll be able to accelerate and deliver on our 2025 goals – from reducing our Scope 3 carbon emissions by 35% to achieving top quartile employee engagement and belonging.
We've come so far since setting our goals in 2020 – let's keep the conversation going, learn from others and know we might not always get it right, but the best thing we can do is to keep trying.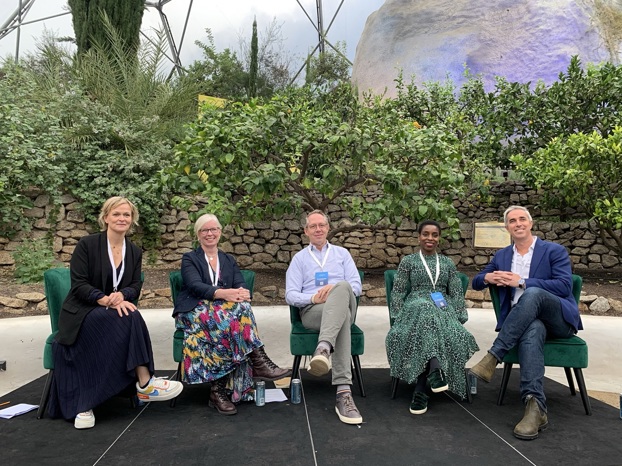 Sarah Webster | Sustainable Business Director