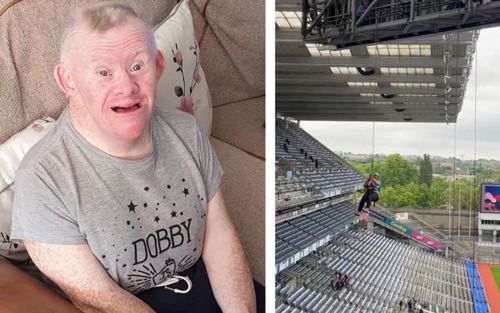 Britvic Ireland is supporting Special Olympics Ireland by contributing towards the cost of sending an athlete to The World Summer Games in Berlin on 17th June 2023. To contribute to this, Britvic Ireland colleagues have done several fundraising events over the month of May, including a team hike, a bake sale in Kylemore canteen and an abseil from the Hogan Stand of Croke Park.
I chose to do the Croke Park abseil as having a family member who previously competed in the Special Olympics for bowling, I have always been a supporter. My Uncle, Bobby, was a member of both Tallaght Tenpin and South Dublin Strikers bowling clubs and won numerous trophies and medals, including sports person of the year.
Bobby was born with Down syndrome and a heart defect, so life was challenging for him from the offset. Anyone who is lucky enough to know someone with Down Syndrome will know that they are some of the most loving, caring people, not forgetting they're the biggest messers you will ever meet. Growing up with a person with a disability really opens your eyes to how different every day life is for them. One thing I think a lot of people don't realise is that disabled people, whether it be a physical or intellectual disability, can perform just as well as any other employee when given the right support. Bobby worked in Stewarts Day Services in both Lucan and Kilcloon for most of his life and absolutely loved it. He worked in the kitchen but also enjoyed pottery, horse riding and gardening while there. He is one of the most punctual and hardworking people I have ever met. People with disabilities show us what really matters in life, and what it means to be loved and accepted simply for being you, not because of what we can or cannot do.
On the day of the abseil, I couldn't help but feel emotional. Bobby, now 57 years old, was diagnosed with dementia in recent years. Bobby's memory deteriorated quickly due to the coronavirus lockdowns and lack of physical contact. Myself and my family were limited to weekly window visits for a maximum of 20 minutes to avoid him encountering the virus. Every now and then we get a glimpse of the old Bobby that we once knew, but usually only for a few minutes. I know that his memory will never fully return, but helping a charity like Special Olympics and its athletes fills me with pride and I know it's something he would be extremely proud of.
One thing I love about Britvic is having opportunities like this and being able to give back to what's most important. Over €18,000 was raised through the sponsorships of everyone who took part in the fundraising events. Our Stronger Together value really sparkled during the month of May, and I look forward to contributing to future fundraising events.
Danielle Maher | Commercial Administrator - Sales Out of Home